Increasing mortgage rates. Higher home prices. A shortage of newly constructed homes. As you can guess, the long-term future of the housing market and, in turn, new mover marketing is uncertain. Although there are several short-term indicators, buyers and sellers looking to make a move in the next 5 years will have a lot to consider. At Speedeon, our goal is to provide the best possible personalized New Mover and Life Event Marketing solutions available. We help marketers understand how the new mover audience might change over time. To do so, we look into housing market trends spanning from short to long-term, and, as such, here are our predictions:
New Mover and Housing Market Trends
Housing inventory will eventually work its way up to pre-COVID levels. However, with shortages in lumber and instability in energy markets, coupled with rising mortgage rates, analysts and politicians agree that a full inventory recovery will take several years.

Mortgage rates will continue to increase through 2026 and perhaps longer, should inflation continue to be a hindrance. This trend will likely slow the rate of homeowner movers and cause an uptick in renters.

Housing prices are expected to rise significantly through the end of 2022 and then slow down or plateau towards the end of the year. Long term, however, housing prices are not expected to see a large decline.

Demand for rentable housing is expected to remain volatile. A lack of housing inventory and increasing mortgage rates push movers away from buying homes.

With the housing market facing unprecedented supply and demand obstacles, analysts disagree on foreclosure predictions.
Industry Observations:
(a.) 
Housing Inventory
Housing inventory continues to remain low, with active listings for May 2022 being recorded at vastly lower levels (48.5%) than active listings in May 2020. Although this supply issue remains ongoing, indicators point to slow long-term growth. (St. Louis Fed)
Although housing inventory remains low, it has seen a sharp increase in recent months, indicative of a rebound to normal levels.

New houses are being built at a faster rate than in previous months. As reflected in the graph below, new homes are making up an increasing portion of total actively 'for-sale' homes. In fact, 9% of all homes listed in April were newly built homes. While this is lower than pre-COVID statistics, it reflects a positive housing market trend comparatively.

The 

White House's plan

 to resolve the inventory issue expects housing to return to normal within 5 years, with analysts from 

Norada Real Estate

 agreeing that housing inventory will certainly remain low throughout 2022 and 2023.
As home prices continue to rise, Manage Casa expects demand for rental properties to further increase, particularly regarding high-density apartments. This will lead to an influx of renters entering the market and encouraging hopeful homeowners to remain in rentable housing.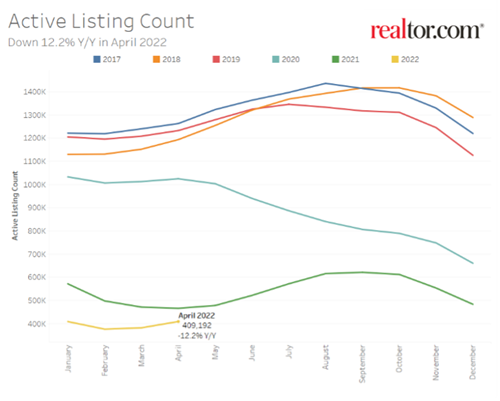 (b.) 
Mortgage Rates and Foreclosures
As recorded by Freddie Mac, mortgage rates have seen a sharp increase since December of 2021 and continue to rise steadily. This increase, in response to rising inflation, is expected to continue through 2026.
Analysts from the Economy Forecast Agency (EFA) predict that mortgage rates will reach 9-10% by 2026, up nearly 5% from the current 5.09% national average.
As mortgage rates continue to rise as a response to inflation, Kiplinger's most recent inflation forecast expects inflation rates to peak at about 9% in the coming months and then decrease by about 3-4% by the end of next year. 
Mortgage rates directly impact the number of individuals buying homes.
Analysts disagree on foreclosure levels. Although currently low and on a downward trend, foreclosure rates continue to be higher than in previous years.
(c.) 
Home Prices
Home prices are currently unprecedentedly high and continue to grow. As reported by the St. Louis Federal Reserve, the past 2 years have seen a nearly $100,000 increase in average home prices.
In the long term, however, this trend is not sustainable. It is expected to plateau or slow down in the coming months/years. Note that as home inventory recovers to normal levels, increasing supply will drive down home prices. However, analysts from Redfin report that as home prices continue to rise, despite more homes being listed, many buyers are backing down hoping for price drops.
Additionally, although home price growth is expected to slow down, housing experts from Forbes noted that buyers shouldn't expect prices to drop anytime soon. Indeed, home prices could very well remain high for several years.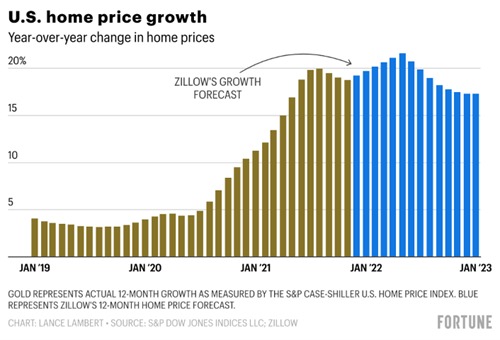 Connect with us to learn more about current movers' marketing and housing market trends. At Speedeon, our expert team is 100% focused on helping you deeply understand your customers and their next steps in life, so you can be there for them right on time. 
In the meantime, you might be interested in: